Voting irregularities are casting a large cloud over Hillary Clinton's apparent win in New York.  Clinton surrogate and Mayor of New York City, Bill De Blasio has pressed for an inquiry with New York City Board of Elections as reports come in of 126,000 Brooklyn Democrats being removed from the voting rolls.
Social Media exploded as the news circulated and many Sanders supporters were quick to point out that the largest concentration of affected voters were in Brooklyn. It was not lost on them that this was Senator Bernie Sanders childhood home.
Board of Elections Executive Director Michael Ryan had this to say, "Brooklyn was a little behind with their list maintenance tasks.Because there are other things going on at the same time. For example, when we are doing an election, which we did in November we're not doing list maintenance tasks."
Those effected by the lapse in maintenance do not appear to be buying it. The overall sentiment seems to be reflecting frustration and voter disenfranchisement as the term "The Brooklyn Purge" is bandied about.
At Brooklyn Borough Hall the site coordinator claimed that about 10% of the voters that showed up at the location were affected by the voting roll purge. Reports came in of entire blocks and buildings being removed from the system
Nick Benson, a New York Attorney General spokesman, tweeted out this as calls rang in to the voter complaint hotline.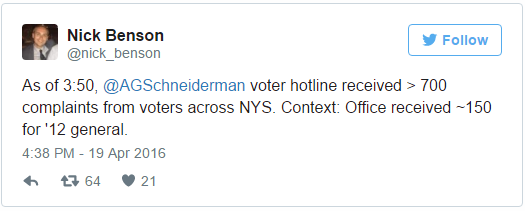 New York City Comptroller Scott Stringer has come out promising an audit. He had this to say, "The people of New York City have lost confidence that the Board of Elections can effectively administer elections and we intend to find out why the Board of Elections is so consistently disorganized, chaotic, and inefficient."
Suffice to say even as Hillary Clinton has come out and given her victory speech and Sanders his concession, the dust kicked up in New York is far from settled.